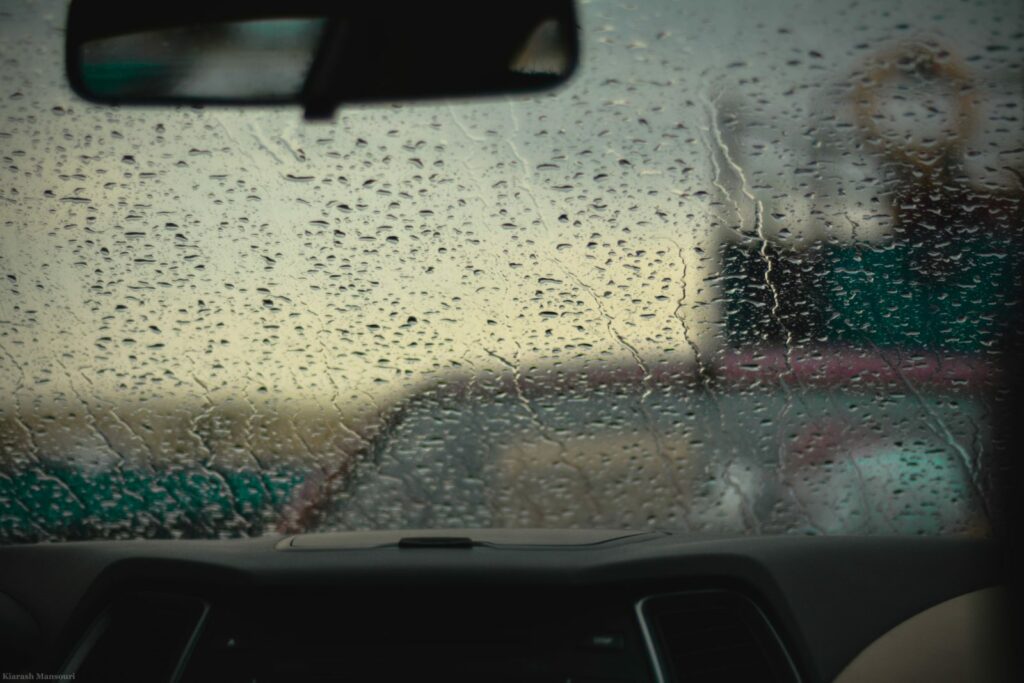 I grew up in south Louisiana and I always said there are four seasons: Gumbo, Crawfish, Summer, and Hurricane. I only ever remember leaving for one hurricane when I was a kid and that was Hurricane Andrew. It seems that Andrew took a turn and headed toward the place where we took refuge. After that, I do not remember ever evacuating again.

Last year, my friend and I took a trip to Louisiana to visit my family and friends. On our way home, we took a detour and went through New Orleans to have a look around. During our stay there, the sun was shining and it was HOT, but the day that we were leaving, clouds started to roll in. We decided to head out a few hours early and the rain started pouring down. Driving in Louisiana rain is not an easy task. Sometimes it comes down so thick and hard that you cannot see anything in front of you. That is how it was this day. Drivers had to turn their flashers on so their cars could be seen.

During this particular drive, there would be bouts of rain that lasted maybe five minutes and was so strong that I couldn't see anything in front of me. During these spells of torrential rain, I would sit up straight and grip the steering wheel while I concentrated and focused on what was in front of me. The wind blew against the car and it would sometimes feel like I would get pushed off of the road. These were not ideal driving conditions and I would be lying if I said that I did not feel somewhat fearful.

The interesting thing about rain in Louisiana is that, from a distance, you can sometimes see where the rain begins and ends. It really is a wonder! When driving in these types of conditions you experience the breaks in the rain rather than just observing them from afar. During these lulls in the storm, I was able to rest my shoulders, sit back, and even turn the cruise control back on when the ground was dry enough. It was a nice reprieve that allowed me to prepare for the next round of rain.

Sometimes we experience storms in life that are so overwhelming that we feel like we will be blown off course. These downpours can shake us to the core and cause immeasurable fear. It is really a scary feeling when you have no idea what you face on the road ahead of you because you cannot see past the thickness of the downpour. We do not tend to get flashing lights in life so we can know whether or not we are going to encounter a fatal crash. This is why it is so important to remain faithful to God and the church.

There have been times when I was under a dark cloud or caught up in a hurricane and I would go to church and feel moved by God's presence. I would leave feeling like the storm had passed, but really it was not over yet. I often felt confused by this and wondered how I could experience His Spirit in such a mighty way with nothing changing in my situation. It was not until I was driving through that storm that I received clarity. It was like an "ah-ha" moment for me. Those times when God's presence refreshes the soul like a cool drink of water on a parched, hot summer day, is like those intermittent breaks in the rain. He allows us to have a respite from the storm where we can rest our shoulders, see some sunshine, and just breathe in His presence. Even though the storm may not be over, we get a break from the severity of the situation.

Can you imagine if there was never any reprieve from the difficult times? I believe that the moments when God's presence rests on us in the middle of a storm it allows us to take a breath and relax for a moment. Even though the storm may not be over, we can rest in Him. Take advantage of these moments with God and use them to gain strength so you can endure the storm without fatal damages. This is God's way of reminding us that He is still beside us and with Him we can make it through unscathed. Do not fret that the storm is not over; just take this time to relax your shoulders and breathe in Him. He will give you what you need to make it through the storm. Enjoy these moments for what they are… Rest in the storm.

"He that dwelleth in the secret place of the most High shall abide under the shadow of the Almighty. I will say of the Lord, He is my refuge and my fortress: my God; in him will I trust." – Psalm 91:1-2

"I will both lay me down in peace, and sleep: for thou, Lord, only makest me dwell in safety." – Psalm 4:8

"Come unto me, all ye that labour and are heavy laden, and I will give you rest." – Matthew 11:8