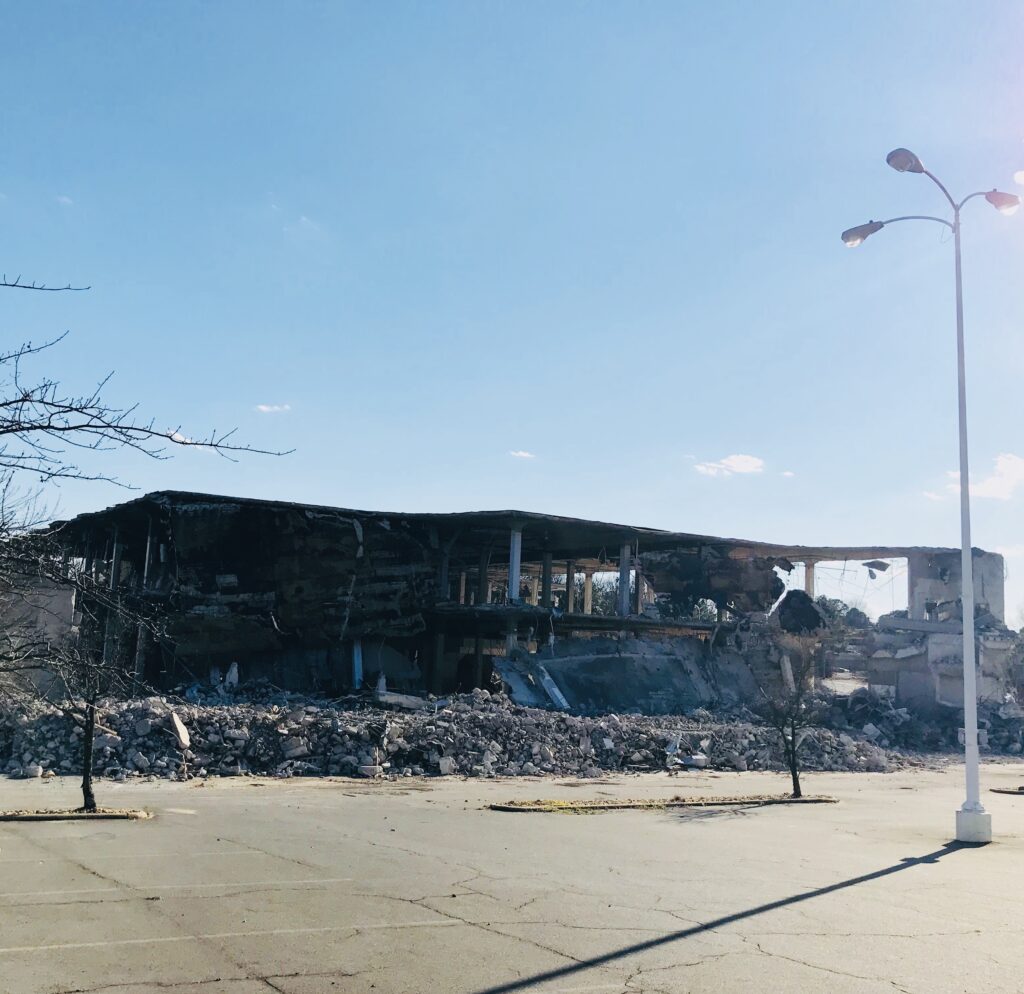 "But now, O LORD, thou art our father; we are the clay, and thou our potter; and we all are the work of thy hand." – Isaiah 64:8
"Then I went down to the potter's house, and, behold, he wrought a work on the wheels.
And the vessel that he made of clay was marred in the hand of the potter: so he made it again another vessel, as seemed good to the potter to make it." – Jeremiah 18:3-4
Have you ever seen a building being erected and wondered, "What is that going to be?" Every time my mother passed a construction site, she would say, "I wonder what that is going to be." The funny thing is, she was not just curious about new buildings going up, but she would even inquire out loud about the future of demolition sites. She would say, "Oh, [this place or that place] would go good there."
A while back I noticed that the old Sears building in Little Rock was being torn-down. I laughed to myself when my first thought was, "I wonder what that is going to be." My next thought was, "What kind of person looks at destruction and inquires about the future for that location?" I was so moved by this thought that I actually got pulled off of the interstate and took the picture that is featured above.
I read an article about the Sears demolition site and it talked about how that building had been vacated. There was nothing going on inside that building. It was a useless structure that had lost its' purpose. The plan for the property is to build restaurants, shops, and two four-story hotels. The Sears structure was being done away with so that multiple new and better places of business could be built. The article quoted one contractor saying, "Demolition is part of the plan…"
How can I look at a building that is being destroyed and think about the future of what can exist there, but when it comes to matters of life I only see what is broken? When life hits like a hurricane and leaves devastating wreckage in its wake, it seems like all that we can see is what has been or is being destroyed. We get buried in the hurt of life as it is being bulldozed and ripped apart. In the midst of the deconstruction, if we listen beyond the noises of what is crushing us, we would probably hear our Creator speaking to us saying, "Demolition is part of the plan." I am strangely comforted by the idea that God chooses pain as part of the construction plan for my life. When my life feels like a site that has been hit by a wrecking ball, I can rest in the fact that there is a plan. It is not just chaos and broken pieces. That does not mean the hurting ceases, but I can find peace in the busted fragments that surround me.
"The Spirit of the Lord God is upon me; because the Lord hath anointed me to preach good tidings unto the meek; he hath sent me to bind up the brokenhearted, to proclaim liberty to the captives, and the opening of the prison to them that are bound;
To proclaim the acceptable year of the Lord, and the day of vengeance of our God; to comfort all that mourn;
To appoint unto them that mourn in Zion, to give unto them beauty for ashes, the oil of joy for mourning, the garment of praise for the spirit of heaviness; that they might be called trees of righteousness, the planting of the Lord, that he might be glorified." – Isaiah 31:1-3
When all I see is my broken heart, He sees wounds being healed. When I feel bound like a captive, He sees that there will be liberty. When I feel dirty from the soot and ashes, He knows that there will be a trade for beauty. When I am in mourning, He sees the joy to come. When my spirit is heavy, He sees a garment of praise in my future. This reminds me of a song by Timothy Freeman that my mom used to sing, "On the other side of broken, that's where Jesus is."
When you are in the middle of a difficult experience, it is hard to find purpose there. You may even want to question God about His intentions. Rest assured that everything He does will ultimately bring Him glory. The next time your life seems to be falling apart instead of asking, "What is happening to me?" try rewording the question to "What am I going to be?" Will it still hurt? Yes. Will it be easy? No. Trust that what is to come is better and more abundant than what you were before the reconstruction began. Just remember and rest in the fact that it is still part of the Master's Plan.
" For I know the thoughts that I think toward you, saith the Lord, thoughts of peace, and not of evil, to give you an expected end." – Jeremiah 29:11